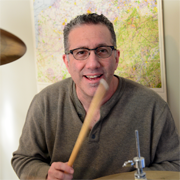 Jay Ziskrout
Sonic Vista's Jay Ziskrout, is an entrepreneurial management, strategic planning & biz dev exec who helps entertainment, marketing, media, and tech ventures grow.
He has devised and executed business plans for start-up, expansion and turn-around businesses in the U.S. and abroad and has built and/or led event management, marketing, media relations, product development, promotion, sales, and technology teams.
Having worked for years helping major brands engage consumers through music and entertainment (as COO of CMJ Network), this international music industry executive come tech entrepreneur founded Charitable Checkout whose 'Rewarded Giving' cause marketing platform enables companies to launch highly social branded charitable giving programs that are both good for the world, and good for business.
Jay previously founded Grita! Records / LatinoVision.com which innovated in the area of digital content promotion and delivery, launched Epitaph Records Europe in The Netherlands as Managing Director, and served as VP Promotion for Arista Records/BMG where he was responsible for numerous #1 hits.
He began his career as the founding drummer of Electric Peace (Enigma) and Bad Religion (Epitaph). Jay has studied communications, advertising and business administration at California State University, New York University and Capella University and graduated Summa Cum Laude.
---